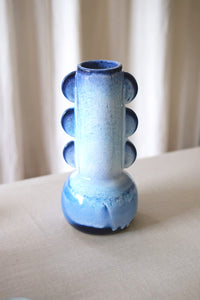 Midnight Blue Triple Handle Vase
This wheel-thrown ceramic vase will enliven your space with its sculpture-like silhouette and eye-pleasing glaze color palette. Each piece is unique and will vary.
All pieces are handmade individually thrown and trimmed on a pottery wheel. They are glazed with dipping method in our custom studio glaze and fired to 1240 degree Celsius. All pieces use high fire stonewares and are safe to be used for eating, drinking and placed inside a cooking oven. Please hand-wash your handmade pottery but on some occasions you may also use dishwasher. The use of microwave is not advisable.
Midnight Blue :
Midnight Blue is a glaze colour we got from triple-dipping 3 glaze colours : blue, white and titanium. They can be quite thick because of that, but the mix of these three glazes creates suspended thickness along the bottom of a cup that's very neat. Midnight has a variation of dark and light blue mixed with our signature titanium glaze effect.
Measurements approx ø 12 cm x h 32 cm
-
To pre-order this item, please contact our sales admin here. Our pre-order items will take approximately 5 weeks to complete.

International Shipping: For International shipping we advise to email us first at alceramicshop@gmail.com for us to provide shipping rates. The shipping cost displayed on the website is only an estimate and may differ from the actual shipping cost.
---
We Also Recommend